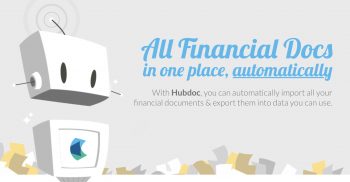 Elements CPA is happy to announce Hubdoc has joined The Elements Platform! Our team is constantly on the lookout for the best financial apps to make entrepreneurs' lives easier, plus vet them in our testing environment to be sure they're ready for your business. The latest app to make the cut is Hubdoc, which effortlessly and digitally manages all your receipts and financial documents in the cloud, saving you hours and headaches in the process. Here's how —
Does This Describe Your Business' Records?
You access your bank and credit card statements online, but don't really have receipts for the transactions themselves
You get the same bills mailed/e-mailed to you each month from the cell phone, utility, internet provider, and similar services.
You've got a file drawer with folders, with a lot of time opening, filing, and searching for documents whenever needed.
You or your team members make purchases on-the-go, but receipts often get lost by the time you get back to the office.
You make purchases online, but have to search e-mail history anytime you want to see the breakdown of what you bought.
The transactions in your company books get misclassified because it's hard to tell or remember after-the-fact what they were for.
Hubdoc solves all these scenarios plus more, keeping your business transactions flowing smoothly, and freeing up energy for your mission. Check out their intro video:
So how does your life Improve with Hubdoc?
After setup, Hubdoc will automatically retrieve bank statements, credit card statements, plus your monthly vendor bills for many companies like phone, utilities, web services, and more. No more logging into ten different websites, and you can turn off paper mailings — they're already all in one spot ready for you whenever you like.
If you or your team make a purchase on the go, just take a receipt photo with your smartphone, forward to the special Hubdoc e-mail, and toss the receipt. It'll instantly be saved, and the computer will file it, plus pull out important details like date, company, dollar amount, etc.
Next time you buy something online, just forward the purchase confirmation to Hubdoc, and boom: it's now part of your business digital file cabinet.
And as you train Hubdoc, it'll automatically take those receipts, sync them over to your Xero accounting records, plus attach the receipt there, ready to view anytime you're scrolling through your business' books.
There's more features too, not to mention the ability easy find a document in seconds the next time you need to look something up or compare purchase history over time.
Activate Hubdoc for Your Business
Getting buried by paperwork can be one of the big drags of running a business, but activating a system like Hubdoc transforms this drag into an accelerator — you can be more nimble since everything is going to the right place, and you can get more accurate insight into how your business is doing, enabling you to make the decisions that will enable it to flourish.
For these and other reasons, we're excited to add Hubdoc to The Elements Platform — just contact our Accounting Designers today to activate Hubdoc for your business!