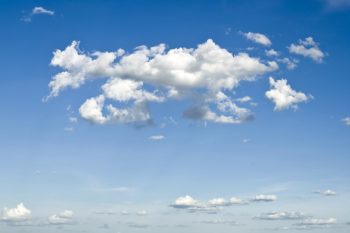 When you use technology smartly, your business gets the double impact of greater effectiveness and less effort. Which is why if you haven't looked at cloud financial apps for your business lately, you're probably missing out on critical advantages and spending unnecessary effort.
What you can now achieve in the cloud
The personal computer revolution of the 1980's established technologies small businesses have been using for decades: desktop/network software, electronic recordkeeping, and automated reporting.
Today, a cloud revolution is afoot, and with it, a new era of possibilities that empower the entrepreneurs who embrace them. Things like:
Pulling up a real-time forecast of your business finances on your iPad while grabbing coffee, easily updating it to reflect expanding your office space in two months, and then instantly seeing the impact on your cash balance twelve months from now to confirm it's still a good idea.
Sending digital customer quotes for electronic approval, instantly converting them to e-invoices and enabling customers to pay online using bank information, having the "paid" status automatically updated in your accounting system and the payment matched to the bank deposit without human intervention.
Retrieving your utility bill automatically each month, using OCR technology to read the amount and due date, and posting it to your books with a PDF copy attached. With approval from your smartphone, the e-payment/check is automatically sent for you, the bill status gets automatically updated as "paid", and everything is documented in a tidy digital history trail.
Sharing information automatically from your project management system so time and expenses pass through and appear when you generate customer invoices and evaluate project profitability.
Enrolling new hires automatically with an e-mail invite, automatically running payroll for salaried employees, and payroll forms/payments that take care of themselves without needing attention from you.
These workflows were either previously unimaginable or cost-prohibitive for small businesses. But now they're both possible and cost-effective. And the entrepreneurs who take advantage of them will accelerate their future and increase their impact.
Added benefits to being in the cloud
Not only that, there's added benefits to being in the cloud that old desktop/closed network systems can't achieve:
Backups and security are taken care of for you. There's no need save and periodically test backup files, and no need to fret over a network security breach on your computer servers, because it's being seamlessly managed for you by experts in the background.
Integrated apps for your industry, instead of a 'one-size-fits-none' approach. Whether you're in software development, cybersecurity, real estate, or a creative firm, you can use a tool designed for what *you* do, then seamlessly share that information with your financial system for a powerful one-two punch.
Instant collaboration with your business advisor, coach, accountant, and team. Being in the cloud using Xero means unlimited users can tap one "ledger of truth", which results in questions getting answered in real-time so you can continue moving ahead.
No more software update reminders, installation progress bars, or retiring old software versions. You're always on the latest version, and can access the full feature set instantly via the internet no matter where you are.
Smartphone apps enable you to capture and access data on-the-go, so nothing gets missed and you can operate in real-time. No more lost receipts, endless pending approvals, and missed updates waiting for when your team is 'back in the office'.
Moving to the cloud the right way
As you can see, moving your business' finances to the cloud enables whole new capabilities that simultaneously strengthen your business and free up your team's energy. It can be tempting to jump in all-at-once, but in our experience, there's a right and a wrong way to go about the transformation. Every business and situation are different, so our team's first step is to draw out your company's solutions on The Elements Flow™ design canvas to visualize how they work together. Then we identify the best order to rollout the components for the least disruption and greatest impact.
Drawings on our Canvas typically include systems like:
Cloud-based financial forecasting system
Integrated KPI dashboard solution
Digital customer payment solutions
Electronic vendor payment systems
Customer relationship management (CRM) systems
You take one of these systems, add another and then another, and you really start compounding the benefits. And having them all integrated with our visual approach means always keeping the big picture in focus and everyone on the same page.
The future is now
There's no question that businesses of the future will be intelligently using technology to augment and multiply their efforts as they create value for their customers. But for many, that future is now as they embrace and are empowered by the latest cloud financial apps to fuel their vision.
To talk to our Accounting Designers about which technologies to apply smartly in your business, reach out to our Design Team.